Retail Store
We are closing the barn store on October 31 (Halloween).
We will still have apples and cider till Thanksgiving - Please call 207 453 7656 for availability.
PICK YOUR OWN APPLES: From the weekend after Labor Day through October, you may bring the family to pick your own apples. Wagon rides are given for transportation in the orchard.
IN OUR STORE: Apples, fudge, sweet apple cider, extra sharp cheddar cheese, jams and jellies, Maine Maple products, other delicious treats, Maine made crafts and art.
APPLE VARIETIES AVAILABLE: McIntosh, Crabapples, Cortland, Gala, Spartan, Red Delicious, Golden Delicious, Spencer, Macoun, Mutsu, Blushing Granny, Northern Spy and others.
PEAR VARIETIES AVAILABLE: Bosc, Clapp's Favorite, Bartlett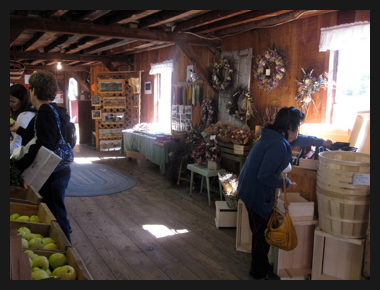 Educational Tours
We offer educational tours of our facility throughout the year, scheduled by appointment.
Contact Us